4 Best Portable Wood Stoves for Hiking and Lightweight Camping
Jun 30, 2021
If you are planning mountain hiking, you must need a stove to boil water and warm up food. The bad news is that most stoves are heavy and fill a lot of space. Further, these stoves require fuels like gasoline, diesel, etc., to start the ignition, increasing the weight. So, you must be thinking about some stove that is lightweight, inexpensive, eco-friendly, easy to carry, and doesn't require fuel.
The Portable wood stove can be your solution as they are lightweight and foldable. They don't take much space and adjust quickly in your backpack. That is not all. These wood stoves don't need any extra fuel like gasoline or propane to ignite, reducing the fuel weight further. You just need dry woods to burn fire, boil water, warm up meals, and do other tasks.
Keep reading the article, and we will tell you four lightweight, and easy to carry wood stoves for hiking now!
1. Pomoly T1 Stove for Hiking:
If you are looking for a perfect wood stove for mountain hiking or wild tour, the Pomoly T1 stove is undoubtedly the best in terms of durability, performance, portability, and weight. It is manufactured from titanium with just 1mm thickness that makes it durable, lightweight and increases its deform resistance. Furthermore, it is the ideal heat source for hot tents or wilderness due to its titanium body and innovative structure.
Pomoly designers are very keen on reducing the weight and size of their stoves to make them ideal for hiking and other long tours. Therefore, they have used just a 1mm Titanium layer to keep the stove weight in control. Furthermore, Pomoly wood stoves are very flexible and portable. They have provided several pinch points to fold the furnace to adjust in your bag easily.
Moreover, it has a closed structure that assists woods to light up earlier, even in wilderness and windy environments. It is very inexpensive as compared to its advanced features and has a better burning ability, which further increases its usability. Besides, its material also supports hikers to use it in a hot tent and other situations.
2. Pomoly Stove Timber Series:
Pomoly Timber series is another fantastic, stand-alone ultra-lightweight wood-burning stove that makes the carrier process easy. It has only a 0.6 mm titanium surface. Therefore, its weight is relatively less and ranges somewhere between 4.8 and 5.7 lb.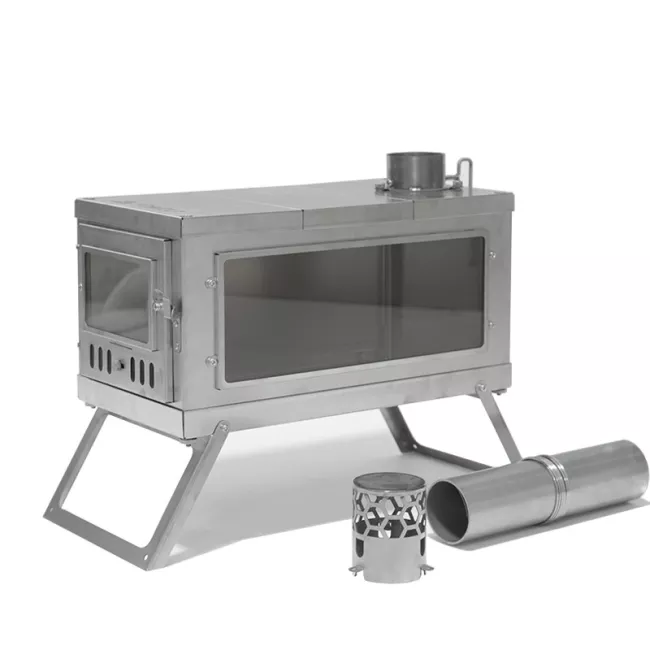 You know the best part about this stove that it is detachable. You can easily detach it and store its different parts separately in your backpack. You can check the dimension of each piece of this stove on the official website. We know that you must be worried about assembling it again every time you want to boil the water. Don't you? Believe that! We have used it many times, and it is much easier to assemble than your imaginations.
It has a windproof structure that provides a highly stable cooking space and makes it suitable for winter camping, hot tenting, and bushcraft. Hence, it can help you cook even in challenging weather conditions. So, if you are looking for an excellent wood stove for a jungle adventure, solo camping, or hunting, you will definitely try the Pomoly Timber Series for the best experience.
3. Winnerwell Fastfold Titanium Stove:
These stoves are manufactured from ultralight titanium. Therefore, these are highly portable and light with just 4 pounds weight. Their heat transfer efficiency is much higher than other stoves that help hikers to heat their shelters and other things efficiently even in frigid weather and keep coals hot for many hours.
Furthermore, its fast-folding ability makes it ultra-easy packable. You can easily fold the stove flat and roll its flue pipe in a compact tube to pack it in your bag pack easily. Hence, its ultra-light and ultra-packable nature makes it a perfect choice for hunters, explorers, and backcountry skiers. You know the best part about this wood stove: its design is very reliable and helps you assemble the stove in minimal time without any worry.
Another fantastic feature that differentiates this stove from other typical stoves is its integrated airflow dampers in the base and the door. These dampers allow you control burn rate depending on your requirements.
4. Luxe Tent Wood Stove:
This 3W Luxe tent wood stove is specially optimized for heating 2 to 6 persons' tent, hammock shelters, and teepees. The unique feature of this stove is that you can even store it in your storage pouch. Furthermore, it is detachable, and you can keep it part by part in your bag. Its parts are packable stove, folding damper, roll-able pipe, and spark arrestor grade.
Luxe stoves are manufactured from a combination of titanium, stainless steel, and glass. It has a very classical rectangular structure with a flat surface and a single glass door to check the flame inside the stove. Apart from that, it also includes slide-able air intake to fine-tune the burn rate. It also has a rib that offers less wrapping in case of high heat. Therefore, it is again an excellent choice from a security perspective.
It is effortless to fold and pack in your bag. You just need to open four bolts and fold down each wall flat. After that, you have to roll up the chimney, flatten the damper and put it in your pouch. Likewise, you can assemble it in less than 2 minutes just by rolling the chimney and tightening four bolts. This feature makes it ultra-adjustable and easy to use.
Final Comparison:
In this section, we will compare all the above wood stoves in terms of weight and prices to make your purchase easier. Let us go to the comparison table now!
| | | |
| --- | --- | --- |
| STOVE | WEIGHT (Lb.) | Price ($) |
| Pomoly T1 Stove for Hiking | 7.9 lb. | $485 |
| Pomoly Timber Series Stove | 4.8 – 5.7 lb. | $445 |
| Winterwell Fastfold Stove | 4 lb. | $499 |
| Luxe Tent Wood Stove | 4.01 lb. | $295 |
Bottom Line:
Whenever you go to buy a stove for mountain hiking or jungle adventure, you must find a lightweight, easily packable stovethat can maintain fire even in the worst weather conditions and doesn't demand any specific fuel other than dry woods. Keeping in view these considerations, we have shortlisted four wood stoves perfect for hiking that you can see above in the article.