NOTE: Delivery Time Adjustment Notice
POMOLY T1 Mini STOVE
TITANIUM TENT STOVE FOR 1-2P
In Stock! Estimated Delievery Time: 7-10 days, Free Shipping!
Especially for Backpacking Camping, Solo Bushcraft, Hot Tent Camping.
The POMOLY T1 Mini Stove is the wood burning stove for solo wilderness backpacking, solo camping, hunting and Jungle Adventure. With its materials-Titanium 1mm, viewing glass windows, the POMOLY T1 Mini Stove is distinctive in the world of tent wood stoves.
WHY T1 ? - Material - 1mm Thickness Titanium - Unique in the world - Deform Resistance
POMOLY T1 mini is made from 1mm thickness TA1/GR1 titanium, it's portable and lightweight at just 4.6 pounds. Compared with other materials, titanium stove has better thermal conductivity. Ideal for as a heat source for a hot tent or cooking meals in the wilderness.
GR1 Titanium lends 10 distinct advantages:
1.Titanium is a harmless metal.
2.Titanium is the most human friendly metal. Titanium is a non-magnetic metal and will not be magnetized.
3.Titanium will not pollute our earth and air environment.
4.Titanium containers can inhibit the growth of bacteria. Harmful bacteria will die quickly in titanium environment. Only titanium products can do this.
5.Titanium metal products weigh less than other metal products.
6.Titanium reacts with oxygen to form a layer of titanium dioxide(TiO₂), which protects titanium from corrosion.
7.The melting point of titanium is 1668 ℃, so titanium products are not easy to deform at high temperature.
8.Touch titanium products in low temperature environment will not have cold feeling, titanium has the name of warm metal.
9.Titanium has high tensile strength and metal memory.
10.Titanium has better thermal conductivity, and the heat will be transferred to the pot quickly.
POMOLY T1 Mini Stove
OUR ORIGINAL INTENTION
Produce high quality titanium wood stoves for camping and cooking.
We hope that high-quality titanium wood stove will be accepted by most camping enthusiasts.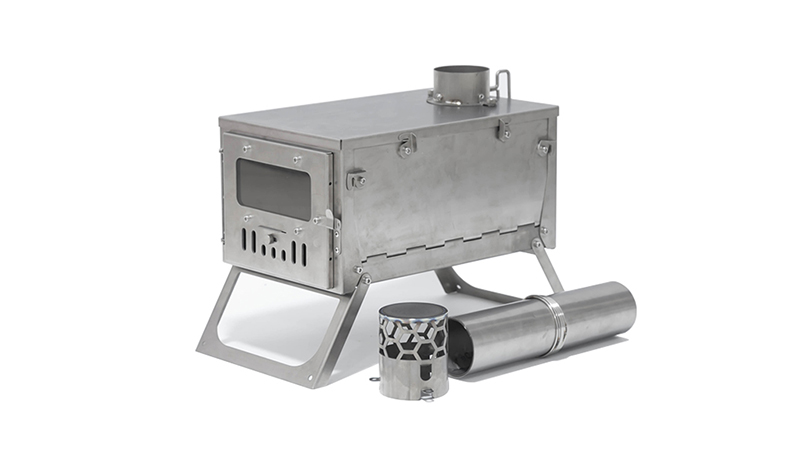 SURFACE POLISHING TREATMENT
Improves fatigue resistance of metal

Top Cover and Bottom Reinforcement (2021 upgrade)
Decrease deformation

GR1 MATERIAL
Corrosion and rust resistance, Better Plasticity and Toughness.

FIREPROOF GLASS
Observe the burning situation

MELTING POINT
Over 3000°F / 1678℃

"MAGIC" STOVE PIPE
Length: 9.5in Roll up

ADJUSTABLE PIPE CONNECROR
Suitable for other Titanium pipes

FUNCTIONAL AND DETACHABLE DAMPER
Control the intensity of the wood burning

SLIDING INTAKE CONTROL
Control wood burning rate

AIRTIGHT MANUFACTURING TECHNIQUE
Prevent smoke and leakage

FAST FOLDING DESIGN
Suitable for backpacking

MORE FUNCTION
Move the head cover, burn chamber can be used as a camping firepit


WHAT'S INCLUDED:
POMOLY T1 mini Stove
Titanium stove pipe
Stove pipe rings
Stove Bag
Smoke Damper
Cut Resistant Gloves
MORE DETAILS
Integrated Damper
Adjust the air flow exiting the stove
Control the intensity of the wood burning


Top Cover and Bottom Reinforcement
Decrease deformation
Flatten the top to heat the bottom of the pot evenly

Collapsible Legs
Connective legs provide a stable base for the stove



Sliding Intake Control
Control wood burning rate

High-Precision
Stainless Steel Connection

Fireproof Glass
Observe the burning situation
Glass window for ambiance