Gears Need To Bring For Hot Tent Camping With Stove
Jun 22, 2021
The novelty and adventurous edge you experience in freezing weather is unexplainable, but there is a problem. The traditional hot tents collect moisture on the inner surface, and this may cause a continuous light moisture drizzle until it covers all of your gear and creeps into your body.
Cheer up because you have the guaranteed solution, i-e hot tenting.
The concept of hot tenting is all about setting up a heat source within your winter hot tent, and the best option is a wood stove. Apart from that, you also need important gear to succeed at hot tenting with a stove. The gear you need for hot tent camping is almost the same, with minor changes based on temperature, weather conditions, terrain, and environment.
The essential gear you need while you do hot tent camping with the wood-burning stove is a sturdy hot tent with a stove jack, stove, camping outfit, sleeping outfit, and safety items. Let's breakdown each gear in detail.
1. Hot Tent with Stove Jack
Hot tents are designed to accommodate wood stoves, or you can say them as camping hot tents with wood stoves. With essential gear and the proper preparation, you can master yourself on hot tenting and make your camping experience phenomenal.
Most camping hot tents are set up as pyramid wall tents with just a central pole and enough pegs. However, freestyle is easier to set up. So, don't forget to bring a peg hammer and enough pegs for setting up your tent and shovel to shovel off the buried soil on the tent snow skirt.
We would recommend you a fire-resistant weaved canvas or any material with fire-resisting properties. Whatever winter hot tent you use, you can use various tricks and tips to set them up, such as using additional front support poles or wind ropes to tie the tent.
The central piece of equipment is a hot tent with a stove jack. You need a tent stove jack to exit the stove flue from the tent. A fireproof stove jack cloth can be seen in the tent wall to put the stove in a winter tent with stove and pass the stove chimney or stovepipe through the tent stove jack. It would be better if your stove jack is rainproof. If your tent doesn't have a stove jack, you need to make a stove jack hole in your tent to pass out the stove flue/stove chimney.
Check Out! Hot Tent at Pomoly.com.
2. Wood Burning Stove
As it is the heart of hot tenting, put a wood-burning stove on top of the gear list. A huge range of stoves, from lightweight titanium (expensive) to larger stainless or black steel stoves (expensive), is available in the market that is ideal for hot tenting. Titanium wood stoves occupy very little space, but the size of your stove should be according to your winter tent with wood stove.
Our current favorite is the Titanium wood stove manufactured by Pomoly. Their Box stoves with chimney pipes are detachable wood stoves. They are easy to assemble and carry around with fewer hardware parts yet don't deform after combustion.
There is other equipment that accompanies the stove and without which stove is of no use. Let's discuss it briefly.
First of all, a fireproof mat for the stove to put under it to avoid ground scorching. You will also need to securely place the spark arrestor on the stove pipe to prevent the sparks from catching fire and a set of anti-scalding gloves to protect your hands while operating the stove and setting up the stove pipe.
For considerable burning, bring a hand saw to collect enough dry wood legally and environmentally sound and ask hook and lighter/match to set the fire.
Don't forget to install a damper for pipe damping so that cold air stays out and keep the tent warm. Another essential is a stove pipe anti-scalding ring that allows anti-scalding protection of stovepipe and keeps your canvas hot tent from being burnt.
In addition, it keeps the stove flue insulated from the ultralight hot tent canvas at the point where the flue exits the pipe. Finally, you may need to use the wind ropes for fixing stove pipe if heavy winds are blowing it out. Just twist the wind rope around it and the interior pole to keep it still.
Additionally, add a stove side table to your bucket list to increase the cooking area and keeping things warm on it.
3. Food Utensils
How can you survive winter camping if you don't have any food and food utensils? Here is what you need as to cooking essentials for hot tent camping:
●
A pot set including a large pot to melt the snow
●
Plates, bowls, lightweight mugs, spoons, knives, and forks to eat food in
●
Tissues to wipe hands, face, body, utensils
●
Dishcloth and dish scraper to clean the cooking utensils
●
Coffee grinder, if you don't even think of living without it
●
Food sealed box or bags to store the food
●
Insulated water bottles
● Water bottle cover to keep from freezing
4. Food to Bring
●
Bring easy to cook, heat, and high caloric food such as steaks, sausages, eggs, cucumbers, cheese, chicken, butter, oats, etc.
● Hot drinks (coffee, ginger tea, hot chocolate)
5. Camping outfit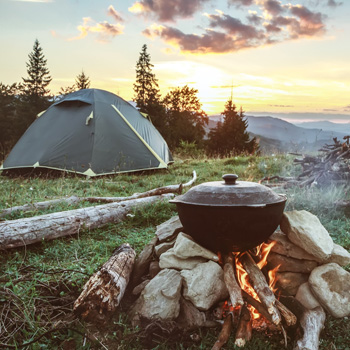 While planning winter camping, then don't forget the rule of layering to keep yourself warm and dry all the time. The list can be very long, but we have mentioned only must-have clothing and footwear gear.
●
Base layer bottoms and top
●
Mid-layer lightweight puffy jacket, fleece jacket, or wool sweater
●
Waterproof-breathable jacket and pants
●
Gloves or mitts, Toque, Warm socks, Liner socks, plus liners and an extra pair of each item
●
Warm, waterproof winter boots, Gaiters, Hut booties
6. Sleeping Outfit
●
Sleeping bag graded at least 10 °F lower than the coldest temps of camping site you expect to encounter
●
Lightweight pillow and a sleeping mat to lie on
●
At least two pads to avoid losing heat
● Waterproof floodlight
7. Security Items
You are into camping with a stove to escape the stressors and life pressures, and definitely don't expect any misadventure.
Inside a hot backpacking hot tent can sometimes be very poisonous due to carbon monoxide accumulation. Therefore, you must take precautions beforehand to prevent such happenings. Never asleep with a burning stove and make sure that stove flue is appropriately drawn. Also, bring a Carbon monoxide detector to avoid a serious incidence.
A GPS locator can help you keep grounded when you explore the site. Even if you are confident about the way around, always keep a GPS locator with you to find a way at night or in poor visibility areas.
Other Safety Gear Is
●
Electronics kit (Mobile phone, cables, and extra charged batteries for headlamps, headphones, or hand warmers)
●
First aid kit and emergency suppliers to tackle any emergency
●
Prescription medications in a sealed dry container for pre-existing ailments (Bring the medications twice the amount that you may need)