Introducing the best portable wood stove in 2021
Jun 8, 2021
If I am not wrong, you may already be fed up with fighting with fire in the campsite. In the last few years, we notice the demand for fuel stoves increases dramatically to make open campsites. Well, the idea of wood burners is getting popular day by day as there is a great scarcity of fuel. Wood burners are a very common item in recent times that have made your weekend more enjoyable with roasted marshmallows and sometimes with a cup of hot coffee. In fact, a wood burner is comparatively less expensive than a fuel stove. So today I gave an introduction to the best portable wood stove in 2021, I hope it will be helpful for you camping.
So if you are going on a solo trip or a group campfire soon, you should get a wood burner instead of a fuel stove as it has great popularity due to the extreme durability and reliable accessibility.
Though wood burners are not a big thing to buy, it is still mysterious which burner is good for you and people often make mistakes in choosing the right wood burner. In that sense, we have decided to work on this and help people like you who have a little knowledge about wood burners. Well, the best way to get to know about wood burners is to read through authentic burner reviews and we are here with some honest reviews of some portable wood stoves. Hopefully, you will enjoy your trip along with your family with the belief that you guys have good stuff for making fire and cooking outside your house comfortably.
T1 mini stove-one of the best portable wood stoves in 2021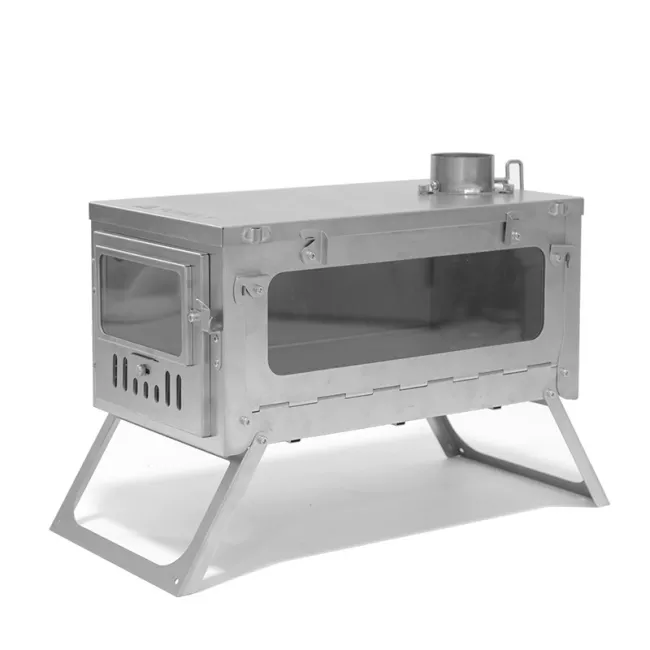 T1 mini wood stove is one of the most reliable wood stove models you will ever get. For any kind of solo camping, this model plays a very crucial role as it helps you the most to get back to your hot coffee within 10 minutes. This may seem quite impossible to you when you are on the top of the mountain. But this precise and compact wood burner is the one that performs equally no matter where you are at. As this is a high-quality wood stove, people love this model very much.
This particular model is quite expensive. You have to spend almost US$ 435.49 to get this wood stove. However, let's talk about its housing quality. This wood stove is constructed with precision-crafted and harmless titanium metal as a heat source. Though the body is quite compact of this wood stove, its structure is very much reliable and long-lasting. It also has an air-glass window that is a very good thermal conductivity choice for one person outdoor explorers. It also has cut-proof gloves to prevent scratches when you roll up the titanium stovepipe. The airtight animated manufacturing technique makes it very lightweight. It weighs only 4.6 pounds. So it is very easy to carry this one in your backpack.
Pros:
Corrosion and rust resistance housing.
Portable and lightweight wood stove.
Fast Folding Design.
Extremely lightweight and easy to carry.
Cons:
A bit expensive.
This is only for solo trips.
TIMBER Wolf Series Stove--one of the best portable wood stoves in 2021
TIMBER Wolf Stove is another reliable version of the woodstove. This one is quite popular with people nowadays as you can carry this ultralight model very easily in your toolbag. This model is available with a weight of only 2kg. This is unbelievably too light. However, this tent stove is good enough for performing for a long time because its construction materials are extremely good. Well, this wood stove is made of a thinner titanium sheet that makes the stove suitable for quick heating. You can do everything you want with this stuff.
You can warm water; you can make your tea or coffee; you can cook food in any environmental condition, even in a snowy area. This is possible only because of its high-temperature resistant quality. This solo camping stove is available at only US$ 384.75. So if you are looking for good stuff for your next adventurous trip, you can buy this one freely. There is another crucial feature that makes this stove suitable for easy carrying. This model is detachable and you can make the whole stove into pieces that are truly good for travelling. This wood stove is definitely enriched with longer service life. Its melting point is 3000°F / 1678℃. So there is no possibility of getting the stove damaged soon. It also has a fireproof viewing glass that is for observing the burning situations from outside. Overall, the Timber Wood Stove is undoubtedly a good piece for outdoor activities for the ultimate comfortability. In fact, this is probably the best option for people who love solo wilderness backpacking, solo camping, hunting and jungle adventure.
Pros:
Lighter and more durable.
Easily carryable due to the detachable body.
Best for keeping the tent hot.
Usable in all environmental conditions.
Cons:
Wood burning control can be a bit satisfied.
The Headcover is not movable.
# T1 mini stove VS Timber mini stove:
T1 mini stove and Timber mini stove both are quite popular in recent times to people who love going outside and travelling. This stuff is suitable for versatile and rough environment conditions where firing can't even be imagined. Well, the most crucial thing is that you guys have two options here. Like many others, you may also want to know which wood stove will be your wisest investment. Actually, both of the models are potential and user-friendly. But there are some things that make these two different from each other. Today our next plan is to discuss it and point out some performance determining quality that these burners have. Without any further do, let's know what the basic differences are.
#1 Carrying Weight:Among all the differences, the most noticeable thing we found is the weight of these two models. The T1 mini stove is quite heavier than the TIMBER mini stove. You will find the T1 mini stove 2.1-2.65 kg, where the TIMBER mini stove is 2.2kg. Weight matters a lot as you need to carry the stove in your backpack and we found the Timber one more efficient in that sense.
#2 Viewing Glass: Both the stoves have viewing glass so that you can observe what is going on inside. Well, both the models have refractory glass and we didn't find any crucial difference in these. But the physical appearance of the T1 mini glove is larger than the Timber one and maybe that's the reason this is easy and comfortable to see through the viewing glass of the T1 mini stove.
#3 Material: Well, you won't find any difference in the housing materials of these two stoves. But the dimension of the titanium sheet is different. The Timber mini stove has 0.6mm GR1 Titanium and the T1 mini stove has 1mm GR1 Titanium. So, the T1 Mini stove is undoubtedly durable than the Timber one.
#4 Design: The Timber mini stove is of puzzle design that you can carry your backpack very easily. The other T1 mini stove is of fast-folding design. So you can get your bag packed in a very short time and with proper efficiency.
#5 Additional Functions: T1 mini stove has some additional features that you won't find in the Timber mini stove. You can move the Headcover. You can also use the burn chamber as the camping fire pit. But you won't get these facilities in the Timber mini stove.
The above is an introduction to the best portable wood stoves in 2021. I hope it will be helpful to those of you who are interested in camping or backpacking. Click here to learn more about portable wood stove products.